"Our newly
foun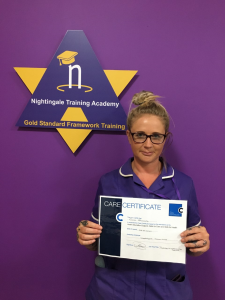 ded
Nightingale Training Academy
is something we are all
extremely proud of ", says Director Chris Long. Our aim is to recruit, train and continuously improve the knowledge of our care & support staff, who we are already extremely proud of, through providing in-depth and comprehensive training in Health & Social Care. Our wish is for all of our staff to be extremely proud to be working for Nightingale Homecare, resulting from being recognised for their knowledge & ability to deliver effective person-centred care.
This will be achieved through continuing to provide not only induction training in care but improved & additional training opportunities, to further increase the skills & knowledge of our care staff. Through widening the skill set of our staff within Health & Social Care, including providing specific training in specialist modules, our staff will take even further pride in wearing the Nightingale Homecare Purple Uniforms, due to the well -deserved respect and recognition resulting from the good reputation of Nightingale Homecare in each locality.
Our specialist trainers have developed a Gold Standard Social Care Training Framework, which initially provides Induction Training to Skills for Care & CQC Requirements. Thereafter the Nightingale Training Academy continues to provide excellent ongoing training to ensure that all of our staff have the skills, knowledge & expertise to meet the many & varied challenges they face during their daily visits. Our specialist personalised in-house training is just one of the resounding reasons we are recognised as the Provider & Employer of Choice in the localities which we support. We work to the highest standards of person-centred home care, with all of our team members developing, understanding, delivering and championing these Gold Standards as they increase their own personal skill-set and progress their Careers in Social Care to become Care Leaders and innovators of the future.
Nightingale Training Academy offers: 12-week Skills for Care Certificate: Understanding your role and duty of care; the principles of safeguarding adults and children; the pillars of nutrition, handling, and safety; how to perform basic life support; and develop the communication and care skills to work in a person-centred way – whilst understanding the ethos of Nightingale Homecare's pride to deliver high quality support at all times. Opportunity to obtain QCF Health & Social Care Qualifications to Levels 2,3,4,5 once staff have obtained their Skills for Care Certificate, the Nightingale Training Academy has engaged the services of a Training Provider with QCF Assessors with the aim of our staff obtaining additional formal qualifications in Health & Social Care so as to further improve and increase the knowledge & expertise of our staff. This opportunity is partly funded by H.M Government & Nightingale Homecare and is open to all of our staff including those new to the Company.
Specialist short courses: Among a range of Training & Certification on successful completion, we provide Gold Standards Framework Training in End of Life Care & Support, Advanced Understanding of Supporting Clients with Dementia and Advanced Understanding of Care & Support of Individuals with Mental Health. Complex Care Needs, Epilepsy and Diabetes Care Management.
The Nightingale Training Academy will continue to develop further bespoke Health & Social Care Modules over the next 12 months to meet the Care & Support needs of our Clients and to improve the knowledge & expertise of our staff.
If you would be interested in joining our team and benefiting from the

excellent Training provided at our Training Academy,

  learning the skills required

to become a member of our Homecare Team, head over to the Home Page and click on the 'Join Us' tab.