Nightingale Homecare have an EXCITING opportunity for a Care Coordinator to join our friendly Homecare Team in Beccles.
Our ideal candidate will have a real passion for care, thrive on working in a rewarding, yet challenging environment and have previous experience of care coordinating and managing a team of carers.
The role: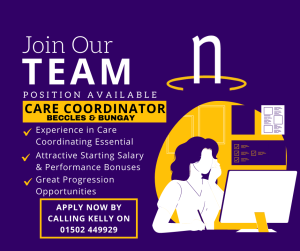 You will work a mixture of shifts 7am-2pm or 2pm-10pm Mon - Fri and every other weekend along with our other Care Coordinator. Together you will support the Registered Manager of our Beccles Branch with all aspects of running a successful & busy Homecare business. This varied and exciting role holds many responsibilities, that include ensuring the compliant delivery of outstanding care for our clients. You will also be able to competently carry our client assessments and complete person centred care plans ensuring they meet CQC requirments.
You will coordinate the team and ensure client requirments are met. The successful candidate must be willing to undertake care work in the community when required, this may include some weekends and holding the On–call phone on a rotational basis.
Experience in coordinating would be extremely desirable & advantageous. You must be a people person with excellent communication skills to support our team of Carers. This role will require a great deal of flexibility and you will need to be focussed on achieving operational goals and targets.
In return for your hard work and dedication we offer an EXTREMELY ATTRACTIVE SALARY dependent on experience, this salary includes VERY GENEROUS BONUSES and REWARDS for achieving results and meeting targets.
Use of a car and driving licence is essential for this role
To find out more & how to apply just call Kelly who is the Registered Manager for our Beccles Branch on 01502 449929